CalLock Patio Door Locking System
Dimensions:
Width 19mm x Height 200mm
Width 1 9/16" x Height 7 7/8"
CAL 001 - CalLock White
50 items per box
CAL 002 - CalLock Silver
50 items per box
CAL 003 - CalLock Brown
50 items per box
The CalLock works by securing the door to the frame at 2 security points and preventing any movement of the door. With its double locking action the CalLock makes it virtually impossible to remove the door by forcing or lifting it off its track.
Simply use Cal Locks to upgrade, secure or even replace existing door locks. The CalLock can be used as a secondary or primary locking system on glass sliding doors. The lock can be mounted above the original lock to be out of children's reach. The lock can also replace the original lock with the addition of the Cal original replacement cavity. CalLock is available in White, Silver and Brown.
Can be bought as a complete set with a face fix keep and a rebated keep.
Watch the CalLock video on YouTube
RRP £15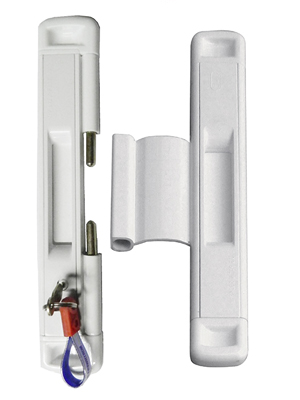 North West Hardware, Unit 1, Hollingworth Court, 260 Stockport Road West, Bredbury, SK6 2AN
Tel: 0845 430 0077 | Email: enquiry@CalLocks.co.uk